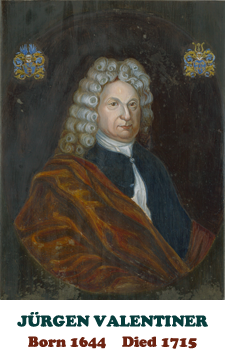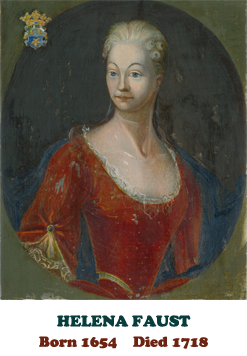 DESCENDANTS AND ANCESTORS OF THE VALENTINER FAMILY
The Valentiner Family has roots in the town of Flensburg, Schleswig – Holstein (Nordfrisland) where a "Freistadt" flourished throughout the Middle Ages. "Jeppe auf der Bohle" by Lytgenholm, that was born in the middle of the1300s is considered to be the ancestor to the Valentiner Family line through PAYENS, WYNBACH, HOLST, VALENTIN PAULSEN HOLST, JÜRGEN VALENTINER (1599-1673) and BRIGITTA HOE (1605-1655) Burgmeister of Flensburg. JÜRGEN VALENTINER and BRIGITTA HOE are the ancestors of the Danish line of VALENTINER'S and his brother VALENTIN VALENTINSEN and his wife DRUDA HOE are the ancestor of the German line of VALENTINER'S. It appears that the VALENTINER FAMILY is found in Denmark, Germany, Venezuela, and the United States of America. The ancestral family names related to the Valentiners are Jeppe auf der Bohle JEPPE, JEPPSON, WYNBARCH, PAYENS, HOLSTE, HOLST, THOR SCHMEDE, FINK, BEYER, FAUST. The wife of Axel Valentiner (the administrator's grandfather) is Rosine Tvermoes (1871-1937) and the TVERMOES and FONNESBECH Families' rich history and genealogy is also part of this website.
Log In | Register for a User Account
The Valentiner Family History website welcomes you to explore the genealogy and history of our family and, hopefully, if you are connected to this site, to contribute and comment with stories, history, photos, ancestral data, and just news about what is happening in your life. The website is built around the genealogy of the "Sønderjylland Slægt" of the Valentiners and is a depository of much history related to the family, related links, photos of people and places, documents, books and personal accounts of our ancestors. This website has been developed by Niels Erik Valentiner and he is the administrator of the website. However, we hope that many around the world that has interest in the Valentiner Family (and related families of Twermoes, Fonnesbech, Holst, Beyer, Payen, and many more families from Flensburg and Denmark) will search and study the rich history downloaded on the website and importantly will contribute to the website and provide whatever photos, histories, documents and genealogy that you have laying around. This could be the place to share with the rest of the families and help preserve these valuable family relics.
Contact Us

If you have any questions or comments about the information on this site, please contact us. We look forward to hearing from you.